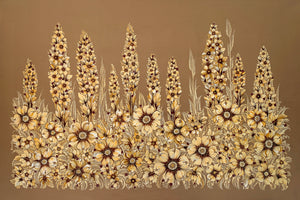 FLOWER PURL - 24 in x 36 in (61 cm x 92 cm)
Regular price $3,000.00 Sale
A fairy tale garden is a place of wonder and enchantment, where the beauty and magic of nature are brought to life in a way that can evoke powerful emotions in those who experience it. The colors here draw out this place filled with the creations of a fantastical and whimsical nature. As one wanders through this dreamlike landscape, one might feel a sense of awe, joy, and a childlike wonder that can be hard to find in the everyday world. The colors, scents, and textures of the garden might evoke a sense of nostalgia or longing, as visitors are reminded of stories and images from their childhoods. Overall, it is a place of deep emotional resonance, connecting us to our imaginations, our histories, and our sense of wonder and delight in the world around us.


UNIQUE ORIGINAL PAINTING
One of a kind artwork. 100% hand painted!
Style: Traditional Ukrainian decorative painting style Petrykivka
Size: 24 in x 36 in (61 cm x 92 cm)
Media: Acrylic
Canvas type: High quality gallery wrapped traditional canvas
Protective coat: Clear, protective, waterproof coating with acrylic finisher
Should you require more information or close up photos on this original painting, please contact us. We are more than happy to help!
Purchase with confidence:
Best price guarantee!

14 days money back guarantee

Secure payment: either Credit Card or PayPal payment will be submitted using secure, 256-bit encryption

Ready to ship within 2 days

Free shipping in Canada! (3-5 days)
Free shipping to USA (5-7 days)

Discounted shipping Worldwide (up to 14 days)

Smooth delivery, trackable and insured

Official

 Certificate of Authenticity, signed by the artist Kateryna Kryvolap provided with purchase
Note: international shipment may be subject to additional import taxes, custom duties or fees imposed by the destination country, payable by the buyer upon receipt.