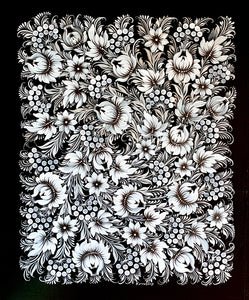 REAWAKENING - 20 in x 24 in (50.8 cm x 61 cm)
Regular price $1,500.00 Sale
This monochrome piece beautifully illustrates the indomitable spirit of life, showcasing how flowers can emerge from ashes with incredible resilience. It serves as a powerful symbol of the transformative power of adversity, reminding us that even in the face of destruction, beauty and growth are boundless. With its profound message of rebirth and renewal, this artwork inspires hope for a brighter future, reminding us that from challenging periods, life can blossom anew, revealing its inherent beauty and embracing the potential for endless possibilities.
UNIQUE ORIGINAL PAINTING
One of a kind artwork. 100% hand painted!
Style: Contemporary Ukrainian decorative painting style Petrykivka
Size: 20 in x 24 in (50.8 cm x 61 cm)
Media: Acrylic
Canvas type: High-quality gallery-wrapped traditional canvas
Protective coat: Clear, protective, waterproof coating with acrylic finisher
Should you require more information or close-up photos of this original painting, please contact us. We are more than happy to help!
Purchase with confidence:
Best price guarantee!

14 days money back guarantee

Secure payment: either Credit Card or PayPal payment will be submitted using secure, 256-bit encryption

Ready to ship within 2 days

Free shipping in Canada! (3-5 days)
Free shipping to the USA (5-7 days)

Discounted shipping Worldwide (up to 14 days)

Smooth delivery, trackable and insured

Official

 Certificate of Authenticity, signed by the artist Kateryna Kryvolap provided with purchase
Note: international shipment may be subject to additional import taxes, customs duties or fees imposed by the destination country, payable by the buyer upon receipt.