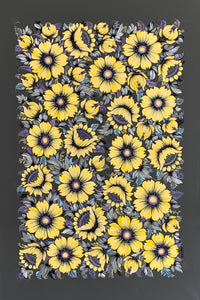 SUNFLOWER TAPESTRY - 24 in x 36 in (61 cm x 92 cm)
Regular price $1,550.00 Sale
To me, this painting is a profound representation of Happiness and Joy. Sunflowers, renowned for their association with positivity and delight, serve as a powerful symbol in this artwork. Moreover, their significance is deeply rooted in Ukraine, making them a cherished and familiar flower within the region. The vibrant and radiant yellow hues of the sunflowers exude a sense of warmth, fostering optimism and evoking a sunny disposition.
Beyond their association with happiness, sunflowers also hold a symbolic significance in terms of spiritual enlightenment. They embody a profound connection with the divine and serve as a gateway to higher realms of consciousness. In this painting, the sunflowers not only represent joy but also offer a glimpse into the transcendent and spiritual aspects of existence. The composition invites viewers to embark on a journey of self-discovery and spiritual awakening, allowing them to embrace the profound depths of their own inner light and wisdom.
UNIQUE ORIGINAL PAINTING
One of a kind artwork. 100% hand painted!
Style: Traditional Ukrainian decorative painting style Petrykivka
Size: 24 in x 36 in (61 cm x 92 cm)
Media: Acrylic
Canvas type: High-quality gallery-wrapped traditional canvas
Protective coat: Clear, protective, waterproof coating with acrylic finisher
Should you require more information or close-up photos of this original painting, please contact us. We are more than happy to help!
Purchase with confidence:
Best price guarantee!

14 days money back guarantee

Secure payment: either Credit Card or PayPal payment will be submitted using secure, 256-bit encryption

Ready to ship within 2 days

Free shipping in Canada! (3-5 days)
Free shipping to the USA (5-7 days)

Discounted shipping Worldwide (up to 14 days)

Smooth delivery, trackable and insured

Official

 Certificate of Authenticity, signed by the artist Kateryna Kryvolap provided with purchase
Note: international shipment may be subject to additional import taxes, customs duties or fees imposed by the destination country, payable by the buyer upon receipt.